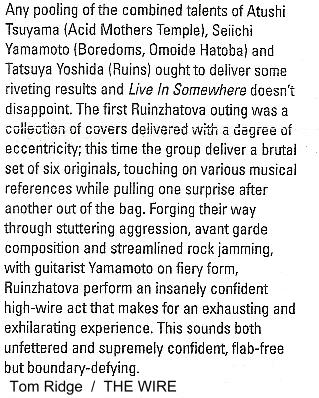 I have to admit when I first got this CD I had no idea what to expect. By my first glance at the cover, I thought to myself it was maybe some strange group of Monks showcasing a bunch of annoying chanting. Glad to see that I was wrong. Actually, this Ruinzhatova CD is better than I expected. Turns out to be some out-there Japanese experimental / Avant Garde. The line-up features musicians from other bands like: Yamamoto Seiichi (Boredoms) - synthesizer and percussion, Tatsuya Yoshida (Ruins,Acid Mothers Temple) - piano,drums and vocals and Tsuyama Atsushi (Akaten, Acid Mothers Temple) - guitar, bass and vocals. Total of six tracks to thoroughly soak in here. "Everywhere" is a good eleven-minute trippy number, and "Somewhere" along with "Elsewhere" are rather wild and jazzy. Another eleven minute track, "Nowhere", sounds to me like it's been tastefully improvised. "Where?" is highly experimental, perhaps too much for some. And the final tune, "Here", is extremely jam-oriented. Probably the best cut on the entire CD. This is one of those discs that definitely grows on you after the second and third play. It might possibly appeal to fans of Fushitsusha, High Rise, Green Milk From The Planet Orange and Uli Trepte. Definitely an acquired taste. Reviewed by Mike Reed / From Aural Innovations #35 (January 2007)



While Japan may have birthed some of the most elegant and elegiac experimental rock of this decade so far, it has also seen a rise in acts that tear massive holes in speakers and fry amp cables. Taking this disc as evidence, this trio of Yamamoto Seiichi (Boredoms), Tatsuya Yoshida (Ruins), and Tsuyama Atsushi (Acid Mothers Temple) appear in the latter category. Few bands can safely combine the excitement of rock while negotiating the worlds of traditional music and out-there wig outs.     Where there last album, Close to the RH Kiki, saw them progged up to the hilt with covers, this is a set of six wired for nosebleed originals. The first two tracks race along in a bonged up jam session style, all gangly limbs and pruned Afros, into lurching progressive funk territory. There are several bumpy side routes roads taken through ecstatic soloing and enthusiastic wailin' and a hollerin'. It doesn't take long before the trio gel, spitting out tight high harmonies and spacey reverb amongst the choppy guitar playing.   Things get a little odder with "Elsewhere" with the introduction of piano, cracked betamax electrics and flute. This falling downstairs vibe strips itself back to washboard percussion and a wordless operatic section ending, finally throttling itself in a punk funk thing. "Nowhere" follows this route, split between Japanese folk and balls outside of trousers rocking. Bizarrely, there are moments here that slip into textbook Red Hot Chili Peppers sound before finding synth horns and a drunken marching band sound. The further you get into the LP, the more there is to find, there's even a tip of the hat to Hendrix's "Star-Spangled Banner." Ruinzhatova are constantly moving.
Scott Mckeating   / BRAINWASHED


Japanese underground music nerds (you know who you are) should start salivating right about now. Ruinzhatova aka Ruins-Hatoba, the melding of the formidable talents of two of the Tokyo avant-rock scene's most veteran and insane bands, the Ruins and Omoide Hatoba, is back with a (presumably) improvised live album that offers 110 percent of what's already a Japanese underground music nerd mindblowing potentiality. The Ruinzhatova trio -- drummer Tatsuya Yoshida (Ruins), bassist Atsushi Tsuyama (Omoide Hatoba, Akaten, Acid Mothers Temple) and guitarist Yamamoto Seiichi (Omoide Hatoba, Boredoms) are in raging good form here, playing live like their lives depended upon it yet of course sweating it not one wit. From the git-go, with the 11 minute, 12 second track "Everywhere", this album is a jazz-flecked, hard-rock-damaged maelstrom of geetar licks and percussive frenzies and vocal eccentricity. They pull out all the stops. Rather than the jokey hokeyness of some previous RH releases, this one is positively HEROIC, each player here simply going for it to the utmost of their undeniably amazing capabilities. From start to finish, an album of hyperkinetic exhilaration, with breathing room for such things as weird flute blowing and electronic fx... Each of the long (7-13 minute) tracks is varied and eventful and impressive!

Meanwhile, Pam says: Middle Eastern Muppet music. Sorta silly but interesting! You be the judge.
[ Aquarius Records ]


Various members of Ruins, Acid Mothers Temple and Omoide Hatoma join forces again for another excursion into prog craziness. Liveinsomewhere finds the band exploring some of the quieter spaces that can be found in free noise epics, but the overall result is still a careening, virtuoso set of odd time, crushing riffs, and the occasional chant. The titles of the six songs here are as vague yet pointed as the space that opens up in the listener: "everywhere", "somewhere" "now where", "Elsewhere" "where?" "here." All the titles reflect specific, yet unknown space, and that is what the music deilvers, sound riveted to the limitations of the musicians, but aiming to go through the roof. / Mike Wood / http://www.musicemissions.com


 It seems to me that the genius in many of today's Japanese bands and solo musicians lies in their ability to take disparate genres of (mostly) Western music and combine them into tasty sausages.  The separate ingredients can be a bit of a mess, but mashed and mixed together one is presented with an extremely savoury treat.  Ruinzhatova have been busy cooking up a steaming plate of links in the form of their new release "Liveinsomewhere" on the Polish Vivo (www.vivo.pl) label.  Bringing together members of Ruins, AMT, Rovo, Boredoms, Omoide Hatoba and countless other permutations it is well within reason for one to expect amazing mayhem and that's exactly the result.  The trio – Yoshida Tatsuya, Yamamoto Seiichi and Tsuyama Atsusha, slimmed down from the four piece of the previous "Close To The RH", present us with 6 long tracks that certainly caused the muscles of my mandible to cease functioning.  High five drum antics, skittering guitar, fast flowing bass forming prog complexities, free jazz shadow boxing, full on everyone-together-now rocking, fuzzy psych, blissed out space journey and a touch dub.  All of this, often within the same song.  Sausages anyone?Rumbles October 2006 / TERRASCOPE
---